Bulk Water Purchases and Accounts
Bulk water is available for purchase through coin operation or through charge accounts. Account set up is required. For more information or to set up an account, please visit the Town Administration Office located at 4909 50 Street or phone (780) 524-5150 during regular business hours.
Coin Operation:
$1.00 for 200 Litres of water
$2.00 for 400 Litres of water
The coin machine accepts toonies, loonies, and quarters, and does not dispense change.
Accounts:
Bulk water rates: $10.00/Cube for Commercial
$5.00/Cube for Residential

THE BULK WATER FILL IS LOCATED AT THE WATER TREATMENT PLANT
4403 – 48th Avenue (East of Westview Manufactured Home Park)
Please Note:
48th Avenue is NOT a designated truck route, restrictions apply. Access the Bulk Water Station/Water Treatment Plant for large trucks via Range Road 222.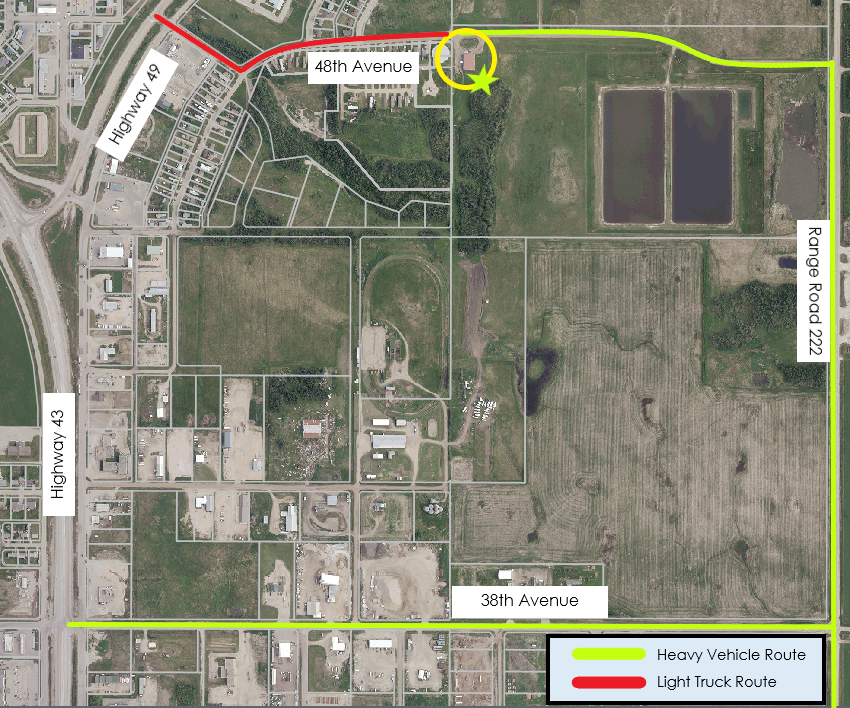 Camlocks and hoses are not supplied on-site, users must arrive equipped with the following:
Truck Fill: 3" female Camlock & Hose
Barrell Fill: 2" female Camlock & Hose
Prohibited:
Use of contaminated hoses. Ensure hoses and connections are clean prior to use.
Washing or flushing of vehicles.
Loading through pumps.
Operating Procedure:
Inspect hoses and connections for damage or missing gaskets.
Connect fill hose to appropriate discharge connection using a Camlock fitting
Ensure all fittings and Camlocks are tightly secured
Follow the prompts on the keypad

Choose "Truck" or "Barrel" Fill
Deposit Coins (skip this step if charging to an account)
Enter Access Number (access number required only if charging to an account)
Enter Pin Number (pin number required only if charging to an account)
Enter Desired Cubic Meters
Press Start

When completed, ensure hoses are disconnected.
Safety Recommendations
*Use of this facility is at the user's own risk*
Use ice cleats if ice is present.
Wear gloves and safety glasses while using the Bulk Water Station.
Inspect hoses and connections for cracks or damage prior to use.
Use Camlock style fittings on hoses and secure both ends to prevent the hose from flailing under high volume flow.
Ensure all Camlock fittings have appropriate rubber gaskets installed.
Ensure all connections are tightly secured prior to filling.
Avoid standing in-line with discharge hose outlet while filling.
The flow can be stopped at any time by pressing the "Stop" button. A short time of 10-20 seconds for the valve to close is normal.
Call 780-524-5157 or 524-5156 to report any safety or service concerns.
AFTER HOURS   : Call 780-524-5153 to report any emergency situations with the Bulk Water Fill Service.